It is possible to drive a vehicle without an oil change, but driving a vehicle after the specified service interval has passed is not recommended.
Over time engine oil breaks down from use and is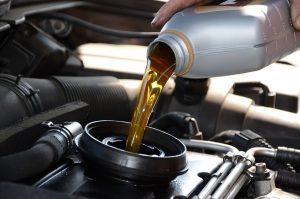 contaminated by the combustion process (blow by gasses). The oil and filter should be changed as soon as is convenient to maintain protection of internal engine components.
Oil should be changed regularly to prevent internal engine damage and breakdown. Manufacturers differ in their recommended guidelines for how often to change engine oil and oil filters.
The traditional rule of thumb is that engine oil should be changed every 3,000 miles to keep the engine healthy and to prolong its life. Most modern cars do not require the old "3 Months or 3000 Mile" service interval. In some cases it is several times that, but at least once a year is recommended, no matter how little you drive.
Some cars are also equipped with maintenance computers that let you know when the oil life is depleted, or when the specified maintenance interval has passed. This notification can come on more often depending on environment or driving conditions such as towing, or long periods of stop and go traffic.