AN OIL CHANGE IS AN OIL CHANGE, RIGHT?
Unfortunately it is not!  At Precision Automotive, our ASE Certified Technicians do more than just change the oil and filter.  At no additional cost, we will perform a 21 point inspection that includes checking fluids, filters, hoses, belts and your undercarriage!  We also reset your tire pressures and inspect for abnormal tire wear at no additional cost!
To schedule your next oil change, give us a call at 903-784-7362!
WHY DO I NEED AN OIL CHANGE?
It is possible to drive a vehicle without an oil change. But driving a vehicle after the specified service interval has passed is not recommended.
Over time engine oil breaks down from use and is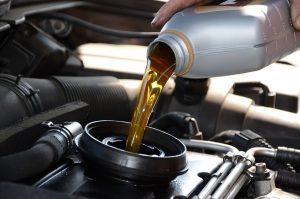 contaminated by the combustion process. This means that the oil and filter should be changed at recommended intervals.  is convenient to maintain protection of internal engine components.
Oil should be changed regularly to prevent internal engine damage and breakdown. Manufacturers differ in their recommended guidelines for how often to change engine oil and oil filters.
HOW DO I KNOW WHEN IT IS TIME?
The traditional rule of thumb is that conventional oil should be changed every 3,000 miles.  This helps to keep the engine healthy and to prolong its life. Most modern cars use a synthetic oil that should be changed every 5,000 miles.
Some cars are also equipped with maintenance computers that let you know when the oil life is depleted, or when the specified maintenance interval has passed. This notification can come on more often depending driving conditions such as towing, or long periods of stop and go traffic.
PRECISION OFFERS ENGINE PROTECTION?
That's right!  When you get a Precision Premium Protection Plus Oil Change, you may be eligible for up to $4,000 worth of engine coverage*! So give us a call at 903-784-7362 and ask your Service Advisor for more details!